Meets and complies with all import & export environmental regulations (RoHS).
The anodizing process is generally created in an electro-chemical bath which produces a uniform natural oxide coating on the aluminum surface. This natural oxide layer has great benefits, increases corrosion and wear resistance, along with excellent thermal and electrical insulating.
Sulfuric Anodize: MIL-A-8625 Type II, often referred to as "regular" anodizing is performed to achieve decorative or aesthetic finishes. These protective finishes may also be used as base layers for other coatings such as Teflon, paint, epoxies or other adhesive materials. Anodize Type II can be applied on various aluminum alloys and castings. 
INDUSTRAPLATE CORP.
ANODIZE TYPE II CAPABILITIES
Formed thickness 0.00005 to 0.0004 in.
Masking for selective surface areas
Salt spray corrosion testing
Thickness and abrasion testing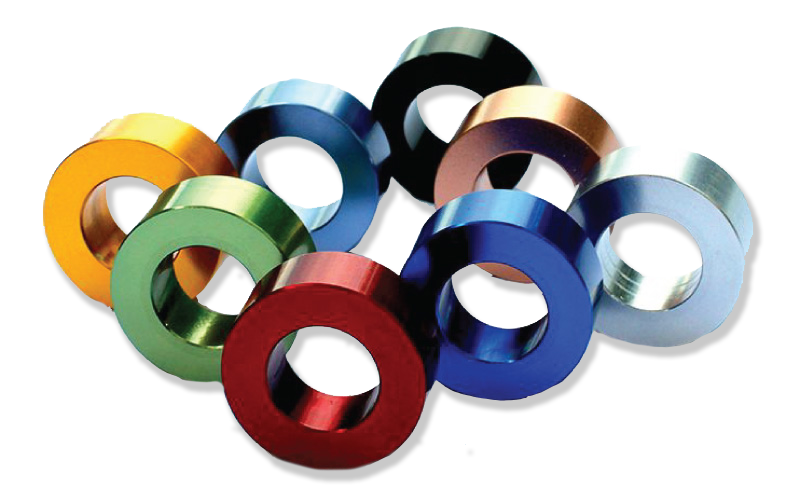 Type II Class 2 specifies an organic dying of the oxide coating. These organic dyes come in a variety of brilliant colors and when applied to the oxide layer become part of the coating. Desired parts can be masked to prevent coating buildup and to allow conductivity on the remaining surfaces. Typical coating thickness ranges from .0001 to .0005 mils. These masked surfaces also can be coated with a conversion process referred to as MIL-C-5114. We offer chromate conversion and non-chromate conversion to meet RoHS requirements.
GENERAL ANODIZING APPLICATIONS
Industraplate Corporation offers a wide range of anodized aluminum services to our customers with a variety of durable colors and textures. Anodized aluminum has great benefits for all Commercial, Industrial and consumer applications.